Building a new house comes with many choices and decisions. The "planning" of the house is one of the most important decisions you will make. There are two types of house plans, custom–typically designed by an architect, and stock plans from an online or brick-and-mortar company. Both options bring advantages and disadvantages.
Although stock plans are readily available and easy to purchase, they can have many hidden costs and may require sacrificing some of your custom dreams.
Custom plans are unique, more complex and time-consuming due to the complicated process of developing a vision, drawing a plan, reworking, and finalizing drafts.
Stock House Plans
Stock house plans are designed, developed and standardized for the needs of a general group. The "most requested" features are usually included in stock home plans, including square footage, room dimensions, floor-plan layout, amenities, etc. When compared with fully custom house plans costing upwards of several thousand dollars more, these house plans are a great value. When going the stock house plan route it saves on the hours spent drafting a plan, reworking it, or finalizing edits keeping costs at a minimum.
Prices for online floor plans can range from a few hundred dollars to thousands of dollars.
Often, online plans offer close to what you want, but there may be a few things you'd like to change. These changes can add additional costs. Many of our clients have purchased a home plan they loved only to discover the layout of the stairs did not meet the city code, or they preferred a larger kitchen. When this happens, you then have to rearrange an entire floor plan, change the layout, and sometimes are not able to use the plans originally purchased due to the added costs of the changes. At times, those added costs are greater than creating new plans with an architect.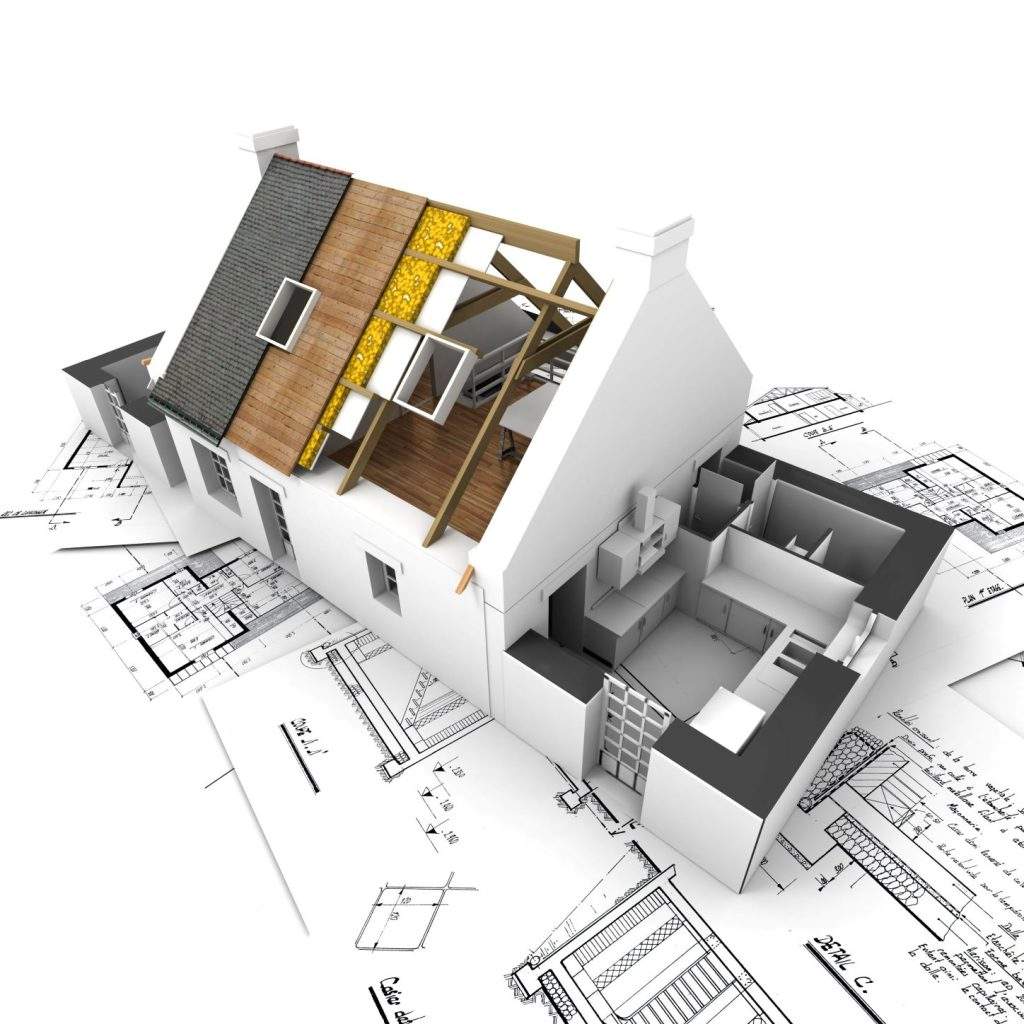 Advantages:
The cost is significantly lower
Easy and quick purchase process
Disadvantages:
Fewer customization options
Custom House Plans
As the name implies, custom homes are designed specifically for you. Your house plans are tailored to meet the needs of your family. Most plans are drawn by a local, licensed building designer or, in some cases, an architect. When a licensed individual is hired to create your custom home, they are required to comply and be familiar with all relevant codes and regulations of the city where the home will be built. This knowledge is necessary in the home construction process to avoid delays or potential surprises that can come up during the inspection. Depending on a client's needs, home location, special building considerations, etc., a custom house plan may be the only feasible option.
As the owner's specific requests must be incorporated into the overall design of the home, the process is usually more involved and time-consuming. A designer may take more time to resolve these types of "special" requests, as they can present significant challenges.
In general, since the house plan is being developed specifically for an individual/family, the costs associated with creating the house plans are higher than those involved in stock house plans.
Advantages:
The design of a home can be tailored to meet the needs of the homeowner
The design can accommodate special needs (extra-large garage for boat, larger master bath, handicapped access, HVAC systems, etc.).
Land-specific home design
Disadvantages:
Higher costs compared to stock house plans
Development is a longer, more labor-intensive process
Significantly longer time to produce (many meetings over several months)
The choice between a custom house plan and a stock house plan is one that requires careful consideration. Consider quality, price, peace of mind, and personalization when making the decision. When you have decided what type of home is right for you, be sure to choose a builder with experience and a proven track record.
Need Help?